New Volvo S60 For Sale Near Lakewood

Get the Best of the Best in the New 2020 Volvo S60 Sedan
 Volvo is known for setting the ultimate standard of luxury and sophistication in the automobiles they produce. It is a namesake that is associated with authentic design and consistent performance. The new 2020 Volvo S60 sedan upholds these longstanding standards this automaker seeks to maintain.
Every Toms River shopper can find an aspect of the new 2020 Volvo S60 that they enjoy. While this is not possible with all sedans, the S60 is so multifaceted that it meets the demands of many different drivers. This vehicle offers outstanding safety features that are internationally recognized, a powerful engine that promotes Lakewood sustainability, unique ownership options in addition to standard lease or loan choices, and modern technology that is exclusive to the Volvo S60.
This luxury sedan inherits the essence of richness and splendor from the inside out. It facilitates the inherent desire for design and unearthed yearning for a small, sporty sedan. Buyers who are ideal owners for the new Volvo S60 exist in a variety of circumstances and geographic locations. Yet, one thing keeps them all intertwined: their desire to own a durable, luxury sports sedan produced by a distinguished brand and rampant in options for individualization. Though the new 2020 Volvo S60 sedan may not be for everyone, it has features and facets that will benefit any and all potential owners in the Brick, NJ area. 
Forward-Thinking Safety Elements
The new 2020 Volvo S60 has so many safety attributes that consumers are blown away by the outstanding achievements of this luxury sports car. Rated highly by many safety institutions, the S60 is notorious for implementing state of the art safety technology and attaining good to superior crash test ratings as a result.
Many of the safety features in the new Volvo S60 come standard even on the base model. Unique features like active bending lights, city safety collision avoidance technology, oncoming lane mitigation, run-off road mitigation, and more. Many of these attributes are so completely distinctive that Manasquan buyers are in awe of the concentration that Volvo puts into its safety improvement efforts.
In addition to these signature safety features, the new 2020 Volvo S60 has also put its own twist on more traditional aspects. Side impact airbags that are equipped with a Side Impact Protection System (SIPS) and a Whiplash Protection System (WHIPS) put a new spin on conventional safety elements.
Distinguished Interior and Technology
Interior facets like those never seen before are a mainstay in the new 2020 Volvo S60 sedan. A two-zone or optional four-zone climate system helps all passengers stay comfortable, while an air quality system and cabin filter ensure adequate air flow. Heated front seats with memory foam create a luxurious driving experience. Steering wheels are also customized, depending on the trim level or package selected.
Many interior features are unique to the Volvo S60 and generate an illustrious appeal. Backrest massage front seats, advanced interior illumination and a heated steering wheel are all examples of such implementations and are available in a separate package. Ventilated leather upholstery and front seat extensions also fall into this category. If the exterior appearance didn't give off a luxurious air, then the complexity and ingenuity of interior features surely will.
As a tech-savvy sedan, the new 2020 Volvo S60 offers multiple methods of connectivity. Many of the technology aspects can be controlled by the nine-inch Sensus touchscreen. Apple CarPlay®, Android Auto™, and Bluetooth® connections are all integrated into the very nature of the S60 sedan.
Park assist, keyless entry, hands-free liftgate, and voice control are amenities that also make your ride a bit more intuitive. The 2020 Volvo S60 definitely doesn't disappoint when it comes to technology integration, and buyers love that aspect of this luxury sports sedan.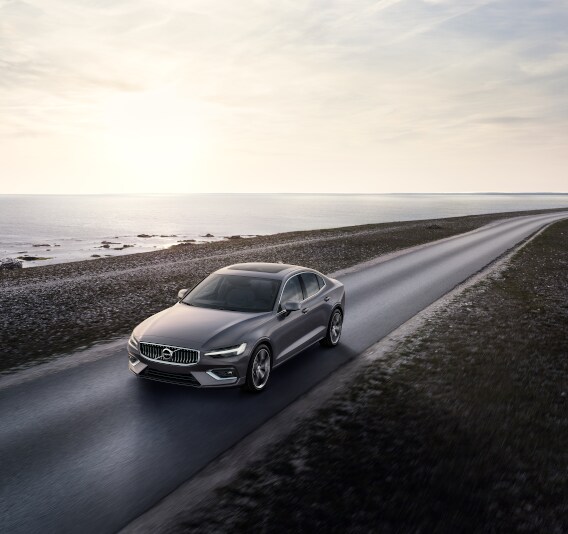 S60 Trim Options
As if the new 2020 Volvo S60 wasn't already impressive enough, additional trim levels are available to further dive into the depths of this vehicle's innate beauty and opulence. Four trim levels are available that offer varying levels of tech upgrades and design details for buyers who are looking for that level of customization. The trim levels of the new 2020 Volvo S60 include:
Momentum
 
Inscription
 
R-Design
 
T8 Polestar Engineered
Each trim level intensifies both in price and upgrade availability. The S60 Inscription and the S60 R-Design offer a little something unique in each model, with the Inscription oozing luxury and the R-Design taking on a sportier persona. These trim levels come complete with their own, specific regimen of feature availability and element integration. Additional packages may be purchased on top of selected trim levels to provide for even more in-depth customization. The options are endless when it comes to narrowing down your ideal S60 luxury sedan.
Selecting Your New 2020 Volvo S60
Where does one even begin when considering a new vehicle purchase? Asking a professional, like the ones assisting at Volvo Cars Manasquan, can help save you loads of time and money on making the wrong decision for you and your family. Our professionals can provide an assessment of the new 2020 Volvo S60 model that would benefit you the most. By scheduling a test drive, viewing the models in person and discussing financing options, our buyers can leave assured that they have made the optimal purchase.