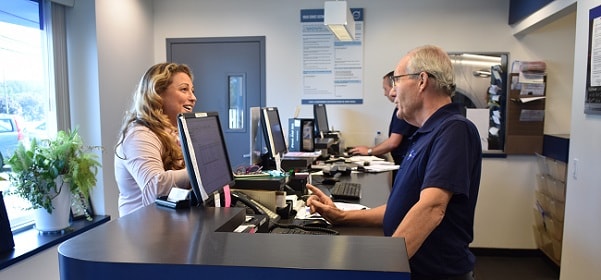 You Can Find Genuine Volvo Replacement Parts & Accessories Here, Or Allow Us to Order Them for You!
Here at Volvo Cars Manasquan, we're proud to be your local Volvo dealership, but selling new Volvo models and quality pre-owned cars isn't all we do here, not by a long shot! Whether you buy them new or used, all cars, crossovers, SUVs, and trucks benefit from the regular service and maintenance that keeps them safe and road-ready, but wear and tear doesn't skip anybody, so even if you're diligent in staying on top of maintenance, eventually you're going to need to replace something; it could be as little as an engine filter or wiper blades, but it could also be as big as a muffler. In either case, our professional Parts Department carries a wide range of genuine Volvo replacement parts and accessories, so getting your hand on the right part for the job is as easy as giving us a call-if we don't have it in stock, we'll place an order for you and notify you once it comes in.
Do OEM Replacement Parts Really Matter?
They actually matter more than you might think! Our professional Volvo Service Center doesn't recommend genuine Volvo replacement parts just because we like them, we recommend them because they're the best parts for the job! In the interest of maintaining the material integrity of your vehicle, using a recommended OEM replacement part is always the best course of action. Not every aftermarket part is going to ruin your Volvo vehicle, but no true Volvo replacement part ever will. Here are a few other reasons to choose OEM every time:
OEM Parts Won't Void Your Warranty: Certain warranties have restrictions on which parts can and can't be used in repair and replace work, but you can be confident that OEM Volvo parts won't be voiding your OEM Volvo warranty!
Most OEM Parts Come With a Warranty of Their Own: Not only will OEM parts leave your warranty well intact, most OEM replacement parts come with a warranty of their own!
The Right Fit, the Right Part, First Time, Anytime: Aftermarket manufacturers have to estimate and reverse-engineer their replacement parts, so they're not able to test the part as part of the overall Volvo system it functions within. Some parts fit right in while others can be underperformers, but genuine OEM Volvo parts have been tested as part of the overall Volvo system, and they'll fit right, right from the get go.
Parts Request
* Indicates a required field
Your privacy is important to us.
Volvo Cars Manasquan takes your privacy seriously and does not rent or sell your personal information to third parties without your consent. Read our privacy policy.
Hours
Monday

8:00AM-5:00PM

Tuesday

8:00AM-5:00PM

Wednesday

8:00AM-5:00PM

Thursday

8:00AM-5:00PM

Friday

8:00AM-5:00PM

Saturday

Closed

Sunday

Closed